In a new, large analytical article, National Interest writes that companies operating in the United States Air Force have made significant progress in building hidden unmanned aerial vehicles. This will significantly expand the technology of intelligence, create whole "flocks" of shock drone and even prototypes of supersonic attack drone aircraft.
The latter will be able to move five times faster than sound, penetrating deep into the protected territory of the enemy. They can be controlled directly from the cockpit of the 5th generation fighters. In addition, drones will help ground connections in difficult urban environments. Swarms of autonomous air and ground robots will be able to help navigate the terrain and conduct attacks.
The Reaper drone (The Reaper, aka Predator) will receive a new universal system for integrating airborne weapons, which will make it easy to replace them without modification. The system includes both software and hardware. The Reaper now carries Hellfire AGM-114 missiles, GBU-12 Paveway II laser-guided bombs and JDAM smart ammunition. These can be added bombs GBU-39B, which will expand the combat potential of the drone.
The US Air Force is now operating over 100 Reapers, and soon their range will be expanded to 2,000 km or 22 hours of flight. In addition, the military have already developed technology to participate in air battles with unmanned systems, as well as mastering the management of drone connections (or "swarms") from the fighter cockpit. They will be able to carry weapons, fuel, ammunition or other vital systems necessary for an air attack.
Next year, four unmanned aircraft must learn to take off from the C-130, and in perspective – from 5th generation fighter aircraft, such as the F-35 and F-22. By 2025, drones will be equipped with high-tech laser weapons with a capacity of up to 100 kilowatts. F-15, F-16 or F-35 fighters will soon get him, who can "melt" enemy missiles without exploding them.
In the US, it is also planned that the latest enemy detection system, Advanced Battle Management and Surveillance (ABMS), will form a single seamless surveillance network for air, ground, unmanned and satellite threats by 2040.
By the early 2020s, the US Air Force will adopt hypersonic unmanned aerial vehicles for reconnaissance or attack. Enemy systems simply will not have time to react to them. Lockheed is preparing to show its first achievements in this area. Moreover, one of their technologies involves launching projectiles into the earth's atmosphere, so that when they fall, they gain hypersonic speed.
Also, The US Army spends 1.7 billion dollars on new cars
US Department of Defense and Oshkosh Defense Inc. signed a contract for the supply of 6107 light combat vehicles.
Armored car Oshkosh L-ATV is designed to replace the legendary SUV Humvee in the US military. L-ATV was developed in 2016, at the same time a trial batch of 6 vehicles was delivered to the US Marine Corps.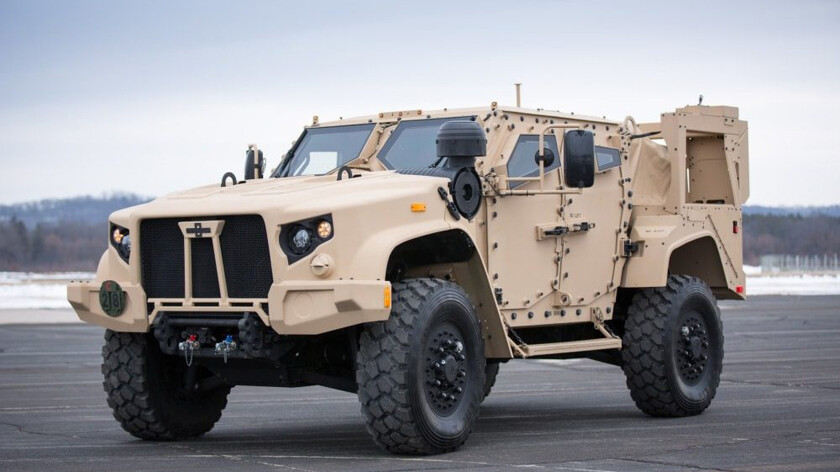 The new machine will be delivered in 4 different versions. In addition to the general purpose SUV, multi-purpose two-door pick-ups and modifications with light and heavy weapons will also be produced. Among the possible options for combat equipment L-ATV – 7.62-mm machine gun, anti-tank missile system BGM-71 TOW or automatic grenade launcher caliber 40 mm. The payload of the car in the quadruple version is up to 1600 kg, and in the pick-up type modification it is 2300 kg.
The first deliveries under the new contract will begin in January 2019. The supply of 6107 cars will cost the Pentagon $ 1.7 billion, and a complete replacement of the entire Humvee fleet will cost about 30 billion.